Bailey and Brandy's Contest Page


Ask any mom and she will tell you,
Us puppies can do no wrong in her eyes. I tell ya we have her wrapped around our little paws! That's why we so patiently let her take our pictures and do our best to act cute and adorable. Being the cute lil' innocent ones we are, our mommy enters us in contests. The look of joy on her face when we win is worth all the silly poses we have to endure....just for our mommy!


My mom entered me in Cookies Cutest Doggie Contest
Guess what? I won!!!!!!
April 2000
My Picture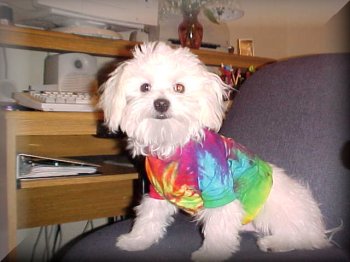 Thank you Cookie for this award.
A specail thanks to everyone who voted for me!
Be sure to check out Cookie's Webpage



April 2000
Brandy and I are 3rd place winners of Penny and Holmes Contest
"My Best Friend Essay Contest"
Jim Allen of Dog Gone Graphics made us this award!
We are so happy and honored with our award
Be sure to visit Penny and Holmes website
and click on our award to visit Dog Gone Graphics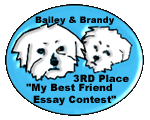 Thanks Penny and Holmes
also Thanks to Jim Allen at
Dog Gone Graphics









Site Map
[Brandy's Page][Bailey's Page][Skeezer's Page][My Cyber Home]