This Page Is Dedicated To My Dog
Skeezer
Last Updated On 4/21/2001

He who is cruel to animals
becomes hard also in his dealings with men.
We can judge the heart of a man by his treatment of animals


Meet Skeezer
He is a Miniature Schnauzer
His is 13 years old
And he is my baby!
I love him SO much
(yes he was neutered when he was 6 mos. old)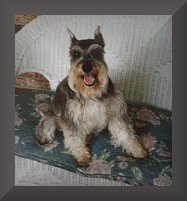 Overall Skeezer has been a very good boy
He has always been my "best friend"
Oh there has been some things he has got into
I will try and come up with some of them....
Let me think...just where do I begin??? ha! ha!
When skeez was a small puppy
he liked my knee-high pantyhose
uh...he liked them so much
he would eat them!!
Well I won't tell you how this story...
uh..."came out"!!!
Skeezer has always had a good appetite!!
For his food, our food, any kind of food.....
Once he opened up the kitchen cabinet
and ate a two pound bag of Oreo Cookies
As we all know chocolate and animals are a big no no
He was wired to say the least
A trip to Dr. Mike and shots of valuim
and he was good as new
Still having the sweet tooth he had acquired
He was in a constant search of junk food
I can remember the time he ate all of the Valentine Candy
We went out to dinner only to return to empty boxes of candy
Not only did he eat my candy he ate Tonya's too
To the Vet here we go.........


Next came Easter.....
You guessed it.....he ate everything in Tonya's Easter basket.
He thought the Easter Bunny was the best!!
When Tonya played softball
she would sell candy bars for the softball team
I really contributed alot to that cause
Thanks to Skeezer getting candy bars,
he found them in my purse,
it didn't matter where the candy bars were
by now Skeezer was a "Chocoholic"
yup......you guessed it...to the Vet
All those times Skeezer made it through the chocolate eating..
It didn't matter where we put it
He always managed to find it
Skeezer didn't always go for the junk food....
He did eat some what healthy food at times...
We had friends over one time...
Enjoying the summer afternoon
We planned dinner together..
Our friends brought with them
three pounds of BBQ..
By now we knew to really put things where
Skeez could not reach them...
Well we thought we had the BBQ in a safe
"No-Skeez" location
What we didn't know....when searching for food..
Skeezer could become a mountain goat and climb!
We came in to see the kitchen drawers open
(guess that was his ladder)
the empty container of what use to be BBQ
on the floor and a very fat and full dog!! (guilty looking too)
I don't think he ate for a few days after that
There are so many things I could tell you about Skeezer
I guess you can tell I'm an animal lover!
I do know that animals gives us unconditional Love
When no one else is there for us...
there they are ever so faithful by our side...



I believe in taking care of our pets
Regular check ups
All shots up to date
And its so very important to have your pets spayed or neutered
I have seen so many animals abandoned by the roadside
This is not the solution to animal over population
Please!....have your pets spayed or neutered!!!



Most of all.. Give them lots of Love and Attention
After all...Our Friends have "feelings" too





"He is your friend, your partner, your defender, your dog.
You are his life,his love, his leader.
He will be yours, faithful and true, to the last beat of his
heart. You owe it to him to be worthy of such devotion
-- Unknown
If there was any petting to be done...he chose to do it.
Often he would sit looking at me, and then,
moved by a delicate affection, come and pull at my
coat and sleeve until he could touch my face with his
nose, and then go away contented."
-- Charles Dudley Warner, "Calvin"


On Sunday Febuary 21,1999
My Best Friend Skeezer died









A MESSAGE FROM THE RAINBOW BRIDGE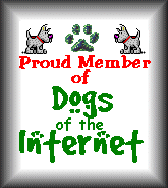 Skeezer's Site won this award from
Dogs of the Internet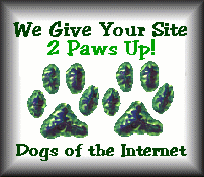 Skeezer's Site won this award from his friend Geoffrey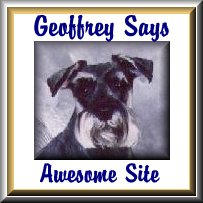 Visit Skeezer's Friend, Geoffrey



Two weeks ago I lost my Best Friend Skeezer
Today Sunday March 7th, 1999 Skeezer's Site won this Special Award
Please follow the link to this very "Special Site"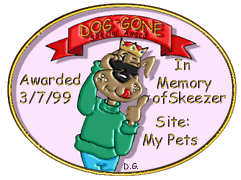 In 1999 there were two counties in Tennessee with Dump Bins of which two
have been demolished. Receptacles to hold unwanted, discarded, ill or old
cats and dogs. Age, health or size is of no consequence. It has been found
that there are 9 states currently using this method of animal control
besides Tennessee, Arkansas, California, Georgia, Kentucky, Massachusetts,
New Mexico, North Carolina, Texas & Virginia. These are the states we know about.


This Animal Rights Issue has been on my local news many times.
I am not proud of the fact that Tennessee has Animal Dump Bins.
Please follow the link below to stop this cruelty to innocent animals!


PETITION TO STOP ANIMAL DUMP BINS






© Copyright 1999 Nancy